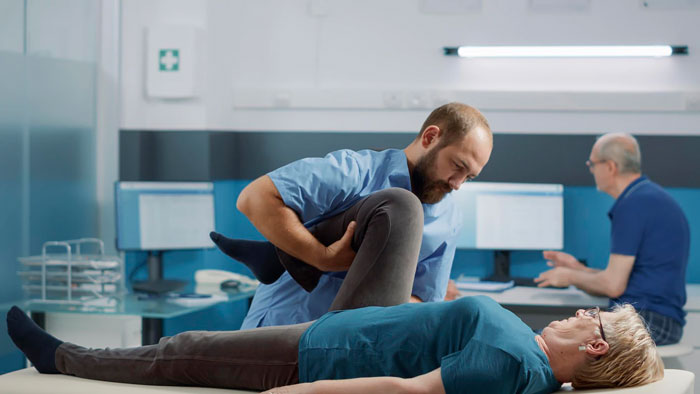 In-Home Physical Therapy for Seniors in Scottsdale

In-home therapy helps seniors alleviate pain, provide more balance and stability, improve their range of motion, and prevent re-injuries and falls. It allows the seniors to live independently for as long as possible.
What is In-Home Physical Therapy?
In-home physical therapy is a healthcare profession that improves the impairments and disabilities incurred by disease or injury. A physical therapist will take a comprehensive history and provide you with a physical examination. It helps to diagnose and establish a plan of care that is primarily focused on alleviating pain. The therapy also helps to improve the range of motion, balance, strength, and endurance to achieve the optimum level of functional mobility and comfort. In-home physical therapy for seniors is often obtained by generic patients who have difficulty moving from their living place. But still, they have a medical ailment that needs therapeutic treatment.
How Does In-Home Physical Therapy Help Seniors?
In-home physical therapy's benefits depend on the type of ailment and level of discomfort. Most of the time, strength training is the primary key to treating an elderly patient through physical therapy. Undoubtedly, seniors are disheartened by their lack of physical stamina. Seniors can improve their strength and coordination by changing their daily lives to include physical activities. A person of any age can improve their overall health by adding a simple strength training program. Seniors can benefit from improving their everyday lives by making simple tasks easier to perform.
Types of In-Home Physical Therapy For Seniors
Physical therapists are trained in various types of therapy for seniors. It helps people return to their everyday lifestyles as soon as possible. Here we'll discuss the main types of in-home physical therapy for seniors.
Daily Exercises:Physical therapist advises the seniors to follow a routine of moderate daily exercises throughout the week. These exercises can include walking, cycling, and swimming a little bit time every day to improve flexibility, strength, and balance. We should admit that being inactive makes you tired and actively gives you more energy. Regular exercise promotes healthy sleep and makes you feel more lively and energetic. Adopting a daily routine can contribute to the prevention of diseases and reduce the unpleasant symptoms of the conditions. A healthy body likely means a healthy mind. Regular exercise helps seniors to improve their cognitive health.
Physical Therapy After a Fall or Injury:Even after a minor fall or injury, our health and quality of life are impacted. If you fall, don't worry, you don't lose everything. We are all aware you may not bounce back up immediately after a fall or injury. So physical therapy can help you heal and resume an active and healthy lifestyle. After a fall or injury, exercise may be the last thing anyone wants to do. But in most cases, body movement is precisely needed to keep the joints nimble and avoid re-injury. After a fall or injury, physical therapy helps decrease stiffness in the joints and muscles. It leads to increased mobility and range of motion.
Orthopedic Physical Therapy:There is no doubt that orthopedic physical therapy can be life-changing. A professional physical therapist can get your life back on track with the help of your daily activities after the surgery, an accident, injury, or illness. An orthopedic physical therapy works to integrate all your bodily systems. Especially your neurological and cardiovascular systems. It helps to treat your injury or condition appropriately. Orthopedic physical therapy involves caring for your complete musculoskeletal system, including muscles, bones, joints, connective tissue, ligaments, and tendons. The treatment consists of determining the appropriate movement diagnosis, creating a treatment plan, and administering therapeutic care. The physical therapist educates you about managing your current injury or condition to prevent further damage.
Cardiopulmonary Physical Therapy:Cardiopulmonary physical therapy is specially designed to help the patients. The treatment improves their breathing and aerobic capacity. The physical therapist teaches the seniors more effective breathing techniques and exercises them under fully monitored conditions. With the improvement of the cardiopulmonary system, the body becomes more efficient at using oxygen. It helps lead to less shortness of breath and progress in the overall quality of life. In Cardiopulmonary physical therapy, each patient and diagnosis are different. The physical therapist also educates the patient because it is a crucial treatment element.
Neurological Physical Therapy:Neurological physical therapy treatment is for seniors who have movement problems due to disease or injury to the nervous system. The physical therapist provides one-on-one therapy with a primary focus on restoring function and improving the overall quality of life. Neurological physical therapy is essential for seniors who have neurological injuries or diseases. It helps to strengthen the brain, spinal cord, and central nervous system to control movement and sensation. Due to injuries to these areas, patients may lose many functions and not be able to perform certain activities. Following neurological physical therapy, there is a specific time when the brain and spinal cord cells can learn to control the missing functions. With the help of neurological physical therapy, most seniors can learn to live their lives independently again. It makes them happier with their lives and contributes to their overall quality of life.
Conclusion:
For seniors, illness can quickly affect physical stability and cause deterioration in walking. Any disease or injury in physical function can affect health and the quality of life. That's why in-home physical therapy interventions are essential for health care. Daily exercises and other therapeutic treatments provide the options to address inactivity, muscle weakness, and specific biological and medical problems. With the help of these techniques, the physical therapist can improve function and optimize safety. In-home physical therapy expanded the unique healthcare approach with the addition of in-home therapy services. Senior patients can now receive quality physical therapy in their own homes.